Highlands Area Hiking Trails
Green Text =s Highlands Most Popular Hiking Trails
Sunset Rocks: 1.2 miles (round trip). Trail head: Horse Cove Rd., across from the Highlands Nature Center. Features: A rock outcropping overlooking Highlands and Horse Cove; trees marked and identified as part of the Town of Highlands "Highlands Trees" project.
Satulah Mountain Summit: The trail is a short hike down an old road bed to the summit, which is 4543 ft. Excellent panoramic views. Distance Aprox. 1/2 mile one way.
Whiteside Mountain: 2 miles (round trip). Trail Head: Whiteside Mt. parking area. Features: This moderate loop trail offers spectacular views from a high ridge top, 2,100' above the valley floor. Whiteside Mt. (4900') has the highest sheer cliffs in the Eastern US (400 - 750').
Hiking Whiteside Mountain - Highlands Newspaper Article
Devil's Courthouse: accessed from the Whiteside Mountain Trail.

Horse Cove Poplar Tree: 100 yards from the Trail Head off Rich Gap Rd. Features: Large yellow tulip popular, the second largest tree in the state and third largest in the East.
Glen Falls: 1.4 miles (one way; 15 min. to first falls). Trail head: Glen Falls parking lot. Trail end: Forest Service Rd. (79C) in Blue Valley. Features: Three cascading waterfalls and a beautiful stream. One of the advantages of this trail is that you can return after seeing the first or second waterfall, and still have an enjoyable walk.
Chinquapin Mountain: 3.2 miles (round trip). Trail head: Glen Falls parking area. Features: Numerous stream crossings and several views from Chinquapin Mt. (4,160') into Blue Valley at vistas along the trail. Access also available off of NC106 approximately 3 miles from Highlands.
Cliffside Lake Recreation Area: There are numerous hiking trails in this area, including an interpretive loop trail describing shrubs and trees along the Cliffside Vista Trail. The half-mile loop around the lake offers hikers an easy walk that is quite level. Cliffside Vista Trail accessed from the road before entering the parking area. Cullasaja River Fishing Map
Skitty Creek Trail To Cliffside Lake Cullasaja River Map
Chattooga Loop Trail: 2 miles (round trip). Trail head: Horse Cove Rd. Features: A pleasant walk through the woods and then along the river, ending with a spectacular view of rock formations from the Bull Pen Rd. Bridge, known as "The Iron Bridge." Google Map Location
Chattooga Trail from Iron Bride Bull Pen Rd. to Whiteside Cove Rd. 6 miles.
Ranger Falls Trail: Accessed from Flat Mtn. Ranger Station off Flat Mtn. Rd. or Cliffside Lake Recreation Area.
Nature Center: Trails with interpretive arboretum features located across the street from Sunset Rocks in Highlands.
Rabun Bald Area Peak 4,696 - This trail provides a spectacular view of the tri-state area from an observation deck atop Rabun Bald, Georgia's second highest point. The deck is constructed from remnants of an old fire tower built in the 1930s. One of Georgia's rarest birds, the raven, is frequently sighted. The ascent is extremely steep. 2 miles one way. Directions: From Highlands to Scaly Mtn., then just past the post office take a left turn on Hale Ridge Rd. then a right on Bald Mtn. Rd. & look for a US Forestry sign that indicates a left on Kelsey Mtn. Rd. to the Trailhead.
.
---
Bartram Trail: Offers many short or long hikes to spectacular vistas, such as Scaly Mt., Jones Knob, and Whiterock Mountain. This national recreation trail runs across the mountains of South Carolina, Georgia and North Carolina. It stretches nearly 80 miles from Highlands to Cheoah Bald, east of Robbinsville. Blazed in yellow in Nantahala National Forest, the trail is named after William Bartram, a naturalist who roamed the Southern woods in 1775.
Bartram & Chattooga River Trail Access From S.C. & GA. Border, Hwy. 28

Scaly Mountain: Take Hwy. 106, 5.5 miles to the Osage Overlook. The trail starts across the road, the length is 1.5 miles each way and the climb is over 1000 feet. After quiet a climb, the trail levels off and comes to an intersection. The Bartram with yellow blazes, continues up to Scaly summit. The spur trail on right with blue blazes leads to trailhead at Hickory Knut Gap.

Hickory Knut Gap: Take Hwy. 106, 4 miles to Turtle Pond Rd. & turn right. Take a left on Hickory Knut Gap Road. Drive 0.9 miles to trail, which is a Forest Service Road on the left. Park on the right, and walk road 0.28 miles then the trail leaves the road sharply to the right. Follow the blue blazes to the junction with Bartram and continue to Scaly summit or beyond.

Jones Knob: Take US 64 West , to Turtle Pond Rd. Go 1.1 miles to intersection and continue to the right on Dendy Orchard Rd. for 1.4 miles to top of hill. Turn left on Jones Gap Rd. and
continue for 2 miles to parking area. An old roadbed leads right to a wildlife management field.
At the far end of the field yellow blazes mark Bartram to the right and blue blazes mark the Jones Knob spur trail to left. Follow blue blazed trail for .03 miles to a mountaintop view.

Yellow Mountain - Shortoff MT: 3 miles (round trip) to Shortoff Mt., 9.6 miles (round trip) to Yellow Mt. trail head: Cole Gap on Buck Creek Rd. Features: A short easy hike to a view of Buck Creek area; Shortoff Mt. has views to the south; Yellow Mt. has views in all directions. The trail to Yellow Mt. is a difficult trail, traversing three of the area's scenic mountains, with many steep ascents and descents. Located off Buck Creek Rd.
Ellicott's Rock Trails: 7 miles each (round trip). Trail head: Bull Pen Rd. Features Ellicott's Rock is a rock embedded in the Chattooga River bank bearing the letters NC, carved by surveyor Andrew Ellicott. He thought this to be the intersection of GA, NC & SC. The actual point of the intersection is Commissioner's Rock, bearing the symbol NC/SC 1813, 10 feet downstream. Directions:...take the right fork, Bull Pen Road. Ellicott's Rock trail starts
at 6 miles, the Bad Creek trail starts at 10 miles. Both drop steeply down from opposite sides of the river near Ellicott's Rock (left bank looking down stream) and continue down river.
There are 3 trails that lead to the Ellicott Rock; Bad Creek, Ellicott Rock and the Chattooga River Trail. The Bad Creek Trail is the easiest trail. The Bad Creek Trail begins at the Fowler Creek parking area off of Bull Pen road

Whitewater Falls Trail: 1/2 mile (round trip). Trail head Whitewater Falls parking lot. Featuring Whitewater Falls the highest in the eastern U.S., 411 feet and is an easy walk on the paved trail.
The 3 Forks Trail: Begins at John Teague Gap and ends near the west fork of the Chattooga River. Hikers will encounter steep and rugged terrain. Exercise caution if you attempt to proceed down to the river on an unmaintained extension.
Points of Interest Before The Bartram & Chattooga River Trail On Hwy. 28
Notice: This is information only. To ensure an enjoyable hike, we strongly recommend you contact the US Forest Service at (828) 526-3765 or visit their office. They have additional information, maps and brochures. Please use caution; although these trails, waterfalls, and scenic areas are beautiful to see, they can be very dangerous.
Waterfalls

Photo: Jim Lewicki
Little Sliding Rock Falls - Grimshaws Area - Whiteside Cove
Green Text =s Waterfalls Close To The Town Of Highlands
Bridal Veil Falls: This fall cascades over US 64/28 3 miles from town. Cars drive under the 120 ft. waterfall. Bridal Vail Falls Video | Cullasaja River Fishing Map
Bust Your Butt Falls: On Hwy.64 / 6 miles from west of Highlands, NC.
Cullasaja River Fishing Map Video
Cullasaja Falls: On Hwy.64 / 9 miles from town, it is one of the most Picturesque falls in North Carolina. It is a 250 ft cascade. Cullasaja River Fishing Map
Dry Falls On US 64/28, 4 miles from Highlands. A pleasant walk from the highway, the path goes behind the 75 ft. waterfall. Cullasaja River Fishing Map
Lake Sequoyah Falls: Located off US 64/28 west, 2.5 miles northwest of Highlands on the Cullasaja River. The Sequoyah Dam is at the head of the falls. There are 18 small falls within a quarter mile paralleling US 64/28. Cullasaja River Fishing Map
Glen Falls: Located off a dirt road 3 miles south of Highlands on 106S. The turn-off is marked by a U.S.F.S. sign. Glen Falls is composed of a series of 3 large falls dropping approximately 60ft. each on the east fork of Overflow Creek in the Blue Valley area. The one-mile foot trail down to the falls is steep. Glen Falls Video
Ranger Falls: from Cliffside Lake or Flat. Mtn. Ranger Station.
Iron Bridge Falls: Horse Cove Rd. Left on Bull Pen Rd. The bridge crosses the Chattooga. Bull Pen Rd. continues onto Hwy. 107. - Iron Bridge Fly Fishing
Rock House Falls: 40ft. located in Blue Valley
High Altitude Trout Fishing Map & Videos Close To Highlands, NC
---
Silver Run Falls: A 30-foot waterfall spills into a pool of water. Off NC 107, 4.1 miles south of Cashiers. Park in pull-off on left & take a short, easy trail to base of falls
Whitewater Falls: Aprox. 28 miles from Highlands, these falls are the highest in the eastern US at 411 ft. A pleasant 60 minute drive, many visitors enjoy driving through Horse Cove and crossing over the Chattooga River on their way to Whitewater.
Holcomb Creek Falls: This trail begins at the intersection of Hale Ridge Road (Forest Service Road 7) and Overflow Road (Forest Service Road 86) and follows a short loop to its end on Hale Ridge Road. The trail passes Holcomb Creek Falls and Ammons Creek Falls, where there is an observation deck.
Ammons Creek Falls: This trail begins at the intersection of Hale Ridge Road (Forest Service Road 7) and Overflow Road (Forest Service Road 86) and follows a short loop to its end on Hale Ridge Road. The trail passes Holcomb Creek Falls and Ammons Creek Falls, where there is an observation deck.
Gorges State Park - Rainbow Falls - Bearwallow Falls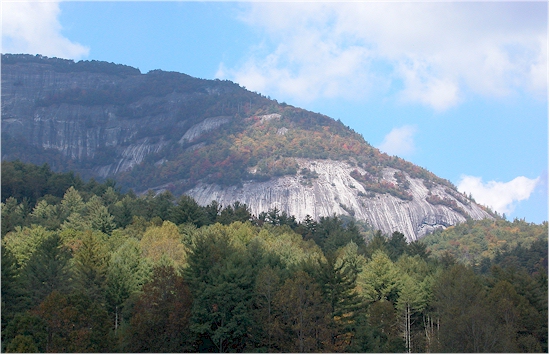 Whiteside Mountain Cliffs - View From Whiteside Cove Rd. Photo: Jim Lewicki
Scenic Overlooks
Blue Valley Overlook - Located 3 1/2 miles SW of Highlands on NC Hwy. 106s. Looking from Blue Valley Overlook PICTURES
Osage Overlook - Hwy. 106s across from Bartram Trail entrance, the view from this vantage is of Scaly and Osage Mountains. PICTURES
Whiteside Overlook - Located 5 1/2 miles from Highlands on Hwy.64e. Looking out over Whiteside, you will be faced with the majesty and austerity of the mountains. PICTURES
Camping
Van Hook Glade @ Cliffside Lake - 4 Miles West Of Highlands NC
Cullasaja River Fishing Map Video
Ammons Branch Primitive Camping Area
From Highlands take Main Street east; becomes Horse Cove Road, for 4.6 miles to intersection with Bull Pen Rd. Take right onto Bull Pen Road and proceed 1.3 miles. Campground is on right. A pit toilet is available. Open year round. No charge.
Blue Valley Primitive Camping Area
From Highlands take Highway 28 south for 6 miles, turn right onto Blue Valley Road and proceed 3 miles to campground on right. There is no charge. There is no developed water supply in the area. There are picnic tables and one pit toilet. Open year round.
Burrell's Ford Campground
From Cashiers take Highway 107 south for 13 miles to Burrell's Ford Road (FS-708) . Turn right and proceed 21/2 miles to campground on the left. The campground is located close to the Chattooga River and has several campsites with tables and grills. Water and a pit toilet are available. Features fishing on the Chattooga River and access to the Foothills Trail, Chattooga River Trail, King Creek Falls & Spoonauger Falls.

Overflow Road Primitive Camping Area
Take Highway 28 south from Highlands for 12 miles and turn right onto Warwoman Rd. Drive 0.2 miles turn right onto Overflow Road and go 1.0 mile to camping area on the left.

Ralph J. Andrews - Jackson County Park
From Cashiers take Highway 107 north for 6.4 miles to Pine Creek Road (SR 1157) . Turn left onto Pine Creek Rd. and go 1.1 miles to Splendor Cove Road, look for Ralph J. Andrews County Park sign and turn left. RV hook-ups, showers, boat ramp (828) 743-3923.

Ellicott's Rock Wilderness
Camping is permitted within the wilderness, except within 50 feet of the river, tributary stream, or trail and less than a ¼ mile from a road. No groups over 10 people.
Fly Fishing
Types Of Trout Caught In The Highlands Area & License Info.
Best High Altitude Trout Fishing In The Southeast - Cullasaja River Highlands, NC
Fish Cashiers & Jackson County North Carolina
Fly Fishing The Chattooga River Iron Bridge Area Between Highlands & Cashiers
Fish The West Fork Of The Chattooga River
Lake Glenville Fishing & Boat Ramp Access
Walhalla SC Fish Hatchery Hwy. 107
The upper section of the Chattooga River is located in Jackson County on the Highlands Ranger District where it flows into Georgia and South Carolina. The Chattooga River flows thru the Ellicott Wilderness area and is classified as a Wild and Scenic River. Anglers enjoy the trout fishing that the Chattooga has to offer. Brown trout are abundant, and rainbow trout are also occasionally caught in the Chattooga River.
Access: From Franklin follow Hwy 64 East thru the town of Highlands down Bull Pen Road thru the Horse Cove community. Bear right onto FS Road 1178 (Bull Pen Road). Follow FS1178 till you get to the iron bridge at the Chattooga River.
Camping: There are only Primitive camp sites in the Ellicott Wilderness area along the Chattooga River. This means that there are no facilities and you should only leave foot prints on the wilderness trails.
Season: Fishing in the Chattooga River is open all year around. The Upper Chattooga in Jackson and Macon counties upstream of the SR 1100 bridge is managed under Wild trout regulations In all wild trout waters the minimum length limit is 7 inches and the creel limit is 4 trout per day. Only artificial lures with one single hook may be used. Below the bridge, Wild trout/ natural bait regulations apply (artificial lures or natural baits, except live fish, and using only single hooks; minimum length limit is 7 inches and the creel limit is 4 trout per day.)
---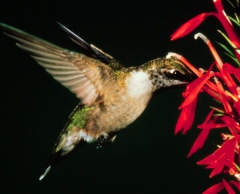 Bird Watching
Highlands NC
An Official
Bird Sanctuary
Did you know that North Carolina's national forests are a summer home for more than 63 kinds of neotropical birds, such as the red-eyed vireo and indigo bunting?
Neotropical migratory birds account for 340 of the 600 species of birds that breed and nest in North America. These birds migrate each fall to warmer climates in tropical regions of Mexico, Central America, South America, and the Caribbean. A sure sign of spring is the return of these colorful, transcontinental travelers, which awaken us with their songs.
In comparison, "resident" birds, such as the northern cardinal, hang around all year. Some migrants, like the American robin, travel short distances to spend the cold winter months in warmer areas of the United States.
The annual migration of North America's neotropical migratory birds is a biological wonder. It's hard to imagine that a blackpoll warbler that nests in the Northern States, makes an 86-hour, 2,300-mile nonstop flight across the Atlantic. These tiny birds must double their body weight in the late summer and early fall to build up enough body fat to make the long-distance flight.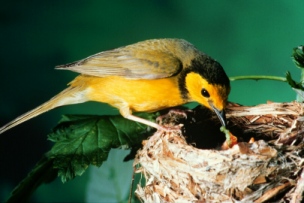 With the advent of spring, most neotropical birds return to the place where they were born. The Southern Appalachians are a popular nesting ground for these birds, because the area provides some of the largest blocks of mature forest in the Eastern United States. As part of the Southern Appalachians, North Carolina's national forests offer the perfect habitat for a diversity of neotropical migratory birds.
With large blocks of forest and unique combinations of elevation, topography, climate, soil, and geology, North Carolina's national forests provide a huge sanctuary for many of these birds.
The national forests are managed not only for large tracts of mature hardwood forest, but also for grassy openings, brushy thickets, young forests, and high-elevation spruce-fir forests. These habitats provide homes and food for 160 bird species.